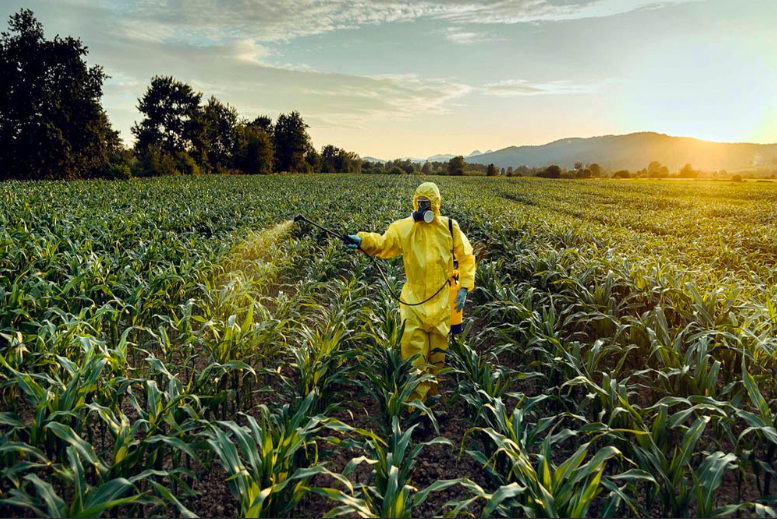 WHAT ARE PESTICIDES? WHAT ARE THEIR TYPES, EFFECTS, AND HARMS?
The substances and methods used to eliminate the harmful effects of bacteria, viruses, and pests are called "pesticides," which include chemicals, some organic compounds, disinfectants, and similar substances.
Pesticides are classified according to their chemical structures and functions, and include insecticides (which kill insects), herbicides (which kill plants), and fungicides (which kill fungi), among others. Pesticides can leave residues in food. When fruits and vegetables are not washed well and are consumed, pesticides can cause serious health problems.
WHAT ARE THE TYPES OF PESTICIDES?
Pesticides aim to eliminate harmful organisms without negatively affecting humans and the environment. The types of pesticides according to their area of use are listed as follows:
Insecticides: Used against insects and pests.
Herbicides: Preferred for unwanted weeds and plants.
Rodenticides: Used against rodents (rats and mice).
Bactericides: Used against bacteria.
Fungicides: Preferred for fighting fungi and fungal spores.
Larvicides: Used against larvae (caterpillars, grubs).
THE EFFECTS OF PESTICIDE USE
Pesticides are seen as the most effective method of fighting harmful organisms. The reasons for their preference include their fast results, their economic benefits when used consciously and controlled, and their protection of crops against organisms that emit toxins. The increasing world population and the decrease in agricultural land lead to food insufficiency problems.
Pesticide use can easily solve the fly infestation problems in residential areas near river basins. Pesticides are also used in weed control on railways. The excessive and careless use of pesticides can be harmful to health. Pesticide poisoning is caused by several factors:
Insufficient education of the public and careless use of pesticides.
Improper storage of pesticides.
Spillage by accident.
Careless loading and transportation.
Use of unwashed pesticide containers.
General maintenance and waste disposal processes carried out without adequate precautions.
Experts who have conducted research on the harmful effects of pesticides are concerned about the diseases that may arise as a result of the intake of pesticides sprayed on plants through food. Liver and kidney diseases and cancer are just a few of the diseases that can be caused by pesticides. The fact that some pesticides have been found to be carcinogenic, affect the nervous system, and cause mutations suggests that this issue needs to be discussed more seriously.
In 105 different studies conducted in the United States, numerous links were found between pesticides and different types of cancer. The most noticeable among these diseases are brain cancer, breast cancer, leukemia, and prostate cancer. Research carried out as part of this study also revealed the link between learning disabilities and diabetes and pesticides.
If you ask, "What is the situation regarding pesticide use in Turkey, which is one of the world's top 5 countries in the agricultural field?"
When we look at the rankings of pesticide-using countries, the amount of pesticide use in Turkey is about 700 grams per hectare, which seems low. However, unfortunately, pesticides are not used in equal amounts in every province of Turkey.
FOR EXAMPLE, THE AMOUNT OF PESTICIDE USED IN ANTALYA, WHERE FRUIT AND VEGETABLE PRODUCTION IS WIDESPREAD, IS APPROXIMATELY 26 KILOGRAMS PER HECTARE, WHICH IS TWICE ASMUCH AS THE NETHERLANDS, EUROPE'S BIGGEST USER.
Turkey, which exports a significant amount of vegetables and fruits to Europe, ranked second among 125 countries in terms of the number of food and feed batches sent in 2008 that were found to be non-compliant with standards.
In 2004, 141 vegetable product batches sent to Europe were found to be non-compliant with standards. The reasons given were pesticide residue, toxin residue, mold, insects, etc. The number of vegetable product batches that were turned away from Europe for the same reasons in 2008 was 308.
The pesticides banned in Turkey are listed below.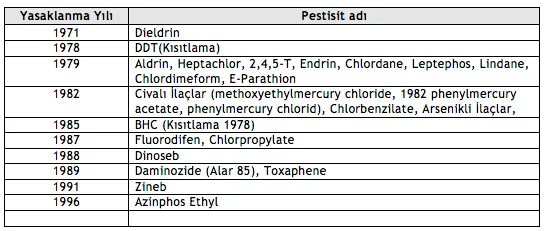 IS IT POSSIBLE TO PROTECT OURSELVES?
It is possible to reduce pesticide use with nature-friendly techniques such as "integrated pest management," agroecology, organic farming, protective farming, biodynamic farming, and restorative farming. Of course, for this to happen, policymakers and decision-makers need to work on this issue. In addition to this, there are things that both farmers and we as consumers can do.
As consumers, we can thoroughly wash the fruits and vegetables we buy from outside with plenty of water before eating them, soak them in cold and clear water in a container for a while, and then dry them with a clean cloth. We should also not neglect to wash our hands with soap and water before washing fruits and vegetables to rid them of chemicals.
Farmers can preserve biological diversity, grow seasonal products, and use nature-friendly farming techniques. These techniques can be more widespread if they are supported by public policies and awareness is raised. If farmers are trained in this regard and switch to ecological farming methods, the use of these agricultural poisons can be reduced, and crop productivity can be increased.